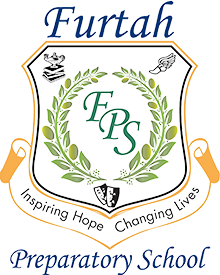 Latest News
As a reminder, we have Academic Advisement on March 27, 28, & 29 and will release early (at Noon).

Academic Advisement is from 3pm-5pm and broken down as follows:

K-2nd , and 8th- 9th Grade March 27
6-7th and 11th Grade - March 28th
4-5th and 10th grade- March 29th


Aftercare is available until 6pm each day, but you must sign up and pay ahead of time. You can email Mrs. Luckie to sign up and send check or cash (in a sealed envelope) with $10. If your student has not attended aftercare this year, you must complete the aftercare registration form: https://sites.google.com/furtahprep.org/falcongazette/extra-curricular-activities-and-forms

You can still order Yearbooks and Yearbook Tribute Ads. We've extended the deadline: ads must be purchased by March 20th.

Both can be ordered following the QR code below or this link: https://www.yearbookordercenter.com/index.cfm/job/10283

Cap and gown pictures are now available for purchase online. Pictures can be viewed and purchased via the link below or via the QR code.

The password is the student's first initial and last name, all lower case, no spaces.

Special package pricing is available for a limited time.

Order your graduation gear by November 18th to get the best pricing of the year.

Visit the Herff Jones site for more details!

The gray skies didn't keep our FPS spirit down as we celebrated the tennis team heading to Macon for the State Tournament.

Furtah Preparatory School will make every effort to be open whenever possible. There will be days, however when weather conditions will make travel to and from school unsafe for both students and staff. As a rule, we will follow Cherokee County schools on the first day of a weather event. We will make every attempt to get our individual school information out to all local news stations. On the second and subsequent days of a weather event, please look for Furtah specifically as we will follow our own schedule. If a school day is to be shortened or canceled, the announcement will be made by the major television station WSB-TV Channel 2. If no announcement is made on the television or radio, the school will be open. We will also post weather related closing and delays on our official Facebook page and here on the website.