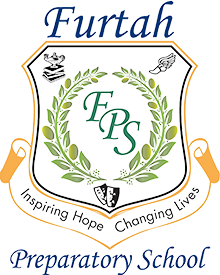 Furtah Preparatory School is a private, non-profit, educational institution dedicated to students who learn differently.
What makes FPS different? At Furtah Preparatory School we:
Correct reading deficits through proven teaching methods
Embrace diversity and accommodate the students' academic and personal needs
Participate in an International Exchange program, (previous countries hosted include: Korea, China, Japan, Ethiopia, Latvia, Russia, Serbia, Switzerland, Germany, France and Turkey)
Teach responsibility in an academic as well as social setting
Provide leadership opportunities through student council, athletics, Yearbook, and a mentoring program
View students as individuals
Teach moral values within the classroom as well as through sports and fine arts
Instill high self-esteem at all ages
Every child is gifted in some way. The goal at Furtah Prep is to discover how the child learns, and then to shape the curriculum and teaching methods to the child's learning differences. Children who struggle in reading may be brilliantly gifted in art or music. Some children may "see" answers without being able to write down the steps from the problem to the solution.
The gift that Furtah Prep provides for children with learning differences is first to determine how and why they learn differently, decipher any hidden reading issues, and then begin to instill hope in the child to inspire them back into learning.
FPS currently serves:
Elementary (K-5th) and Middle School (6th-8th):
Our curriculum is designed to integrate with and meet Georgia State Standards and provides a seamless transition into high school.

High School (9th-12th):
Our curriculum is designed to meet Georgia High School Graduation Standards, as well as HOPE Scholarship requirements, while discovering passions and talents.
"With great opportunity comes great responsibility"; therefore, we cherish our families who entrust their children to our care. We encourage you to come spend a day with us and discover what we have to offer. Visit our classes, meet the faculty, and experience first-hand the welcoming atmosphere and excellence of our brand of independent education.
Again, thank you for your interest in Furtah Preparatory School. Come discover how we can inspire hope in your children, and possibly change their lives.
FPS accepts students of all nationalities, races and religions.